Contemporary art and trendy furniture were laid on a stage of ingenious shadow play. Celebrating the sun and provoking a play of shadows this contemporary project of the renowned Israeli studio Pitsou Kedem – the Corten House is an artistic expression that reviles its layers gradually and does not stop to entertain and mesmerize.
The main construct consist of a concrete and weathered steel structure that creates a shadows in a chess board pattern across the interior. The vast house structure unfolds around a double-height courtyard in a visually intertwined, through glass walls, sequence of rooms that evolve from communal to private. Aside from the undoubted quality and ingenuity of the architectural construct the interior design and the correlation between man-made structures and natural plant life are also quite impressive. The shadows cast from the leafs of the trees and plants integrated in the design also actively participate in the dynamic game of shadow patterns and artistic expressions – and that carries unique character and irresistible charm.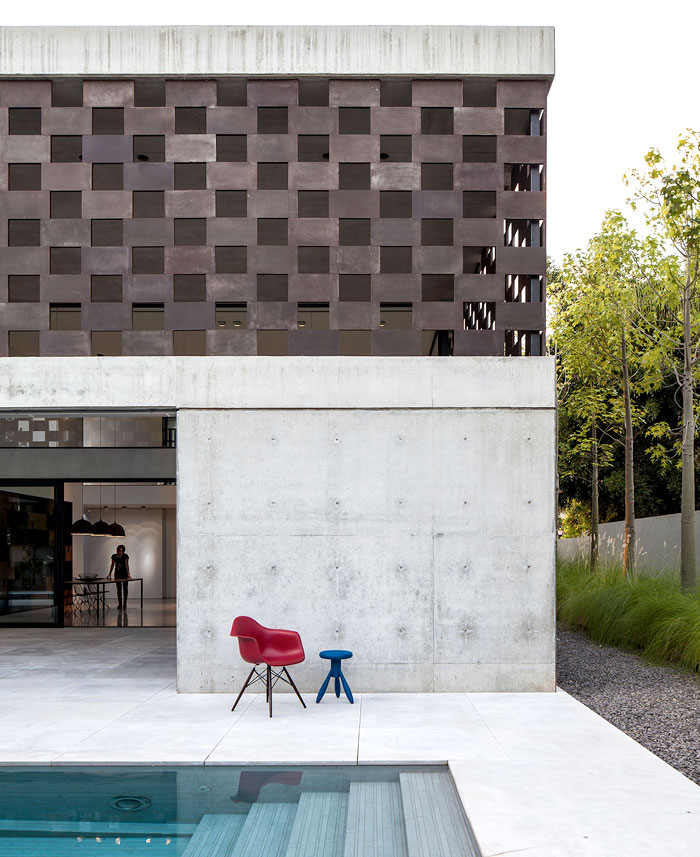 The furnishing throughout the house is remarkably artistic and modern, with innovative shapes, materials and color compositions. Everywhere from the bathroom to the courtyard, through the vast communal premises to the privet bedrooms – the designers' pieces of furniture in their rich variety of shapes, materials and colors entertain and capture the visitor. Laid against a clear lined architectural shell of concrete, metal and wood cladding the artistic expressions of the unique furniture, lightning solutions and decoration, leaves the sensation of an inhabitable contemporary art gallery or a home of art Maecenas.
The strong characteristic colors of the furniture pieces become accents of the monochrome spaces. Composed by voids and solids, glass, concrete and steel, entwined with beautiful plant life and amazing contemporary decor, this house is wonderful example of modern architecture and design, suited for dynamic urban life.