Bartoli Design created a new chair Napi for Bonaldo – with flexible solid polyurethane body, made of a single piece and it stands out for its rounded fold that marks the seam between the seat and the backrest.
"The chair subject is a classic for designers – Anna Bartoli explains – it represents the icon of the design project, so each designer would like to have one at least among his projects. Given the happy outcomes in that field, our office is frequently asked to design new chair models.
The design of a meaningful chair is a complex subject. Nowadays on the market there are many seatings, made of very different materials and for everyone's taste. Rationally there would be no need for that, yet the market keeps on demanding new chairs, as the seat is an archetype in man's culture (Ettore Sottsass said that chairs are still little private thrones on which everybody can rest their own little, private power…) as well as one other most used items in daily life.
The ingredients mix in designing a chair is a unique combination of structure, ergonomics and aesthetics, not necessarily in that order. The "shape" of chairs is really a whole with the other components of design, much more than in other products. A chair has to be comfortable, strong, pleasing on each side. The look of one single chair has to be significant and equally non-disturbing when many chairs are combined.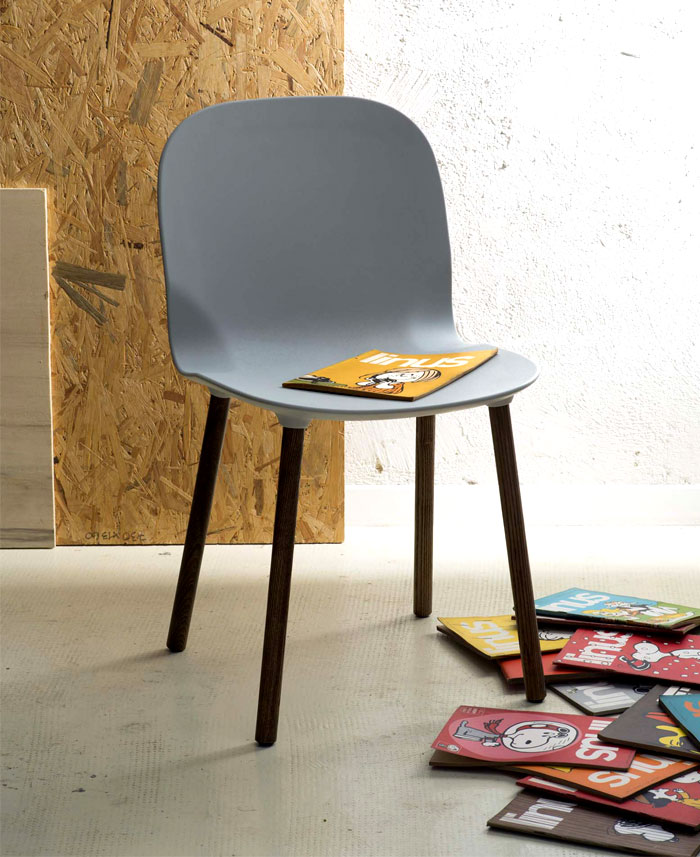 When we start the project of a chair, we define a briefing with our client to identify the "species" of seating to design, among the many possibilities: chair or armchair, with or without separate armrests, stacking or not, soft or rigid, for indoors or outdoors, for residential or public spaces, with 4-legs or sled or trestle or swivel or flat base, on a beam or tub chair…
Simultaneously, we get into the company's culture to understand the technological and formal starting points that we can develop.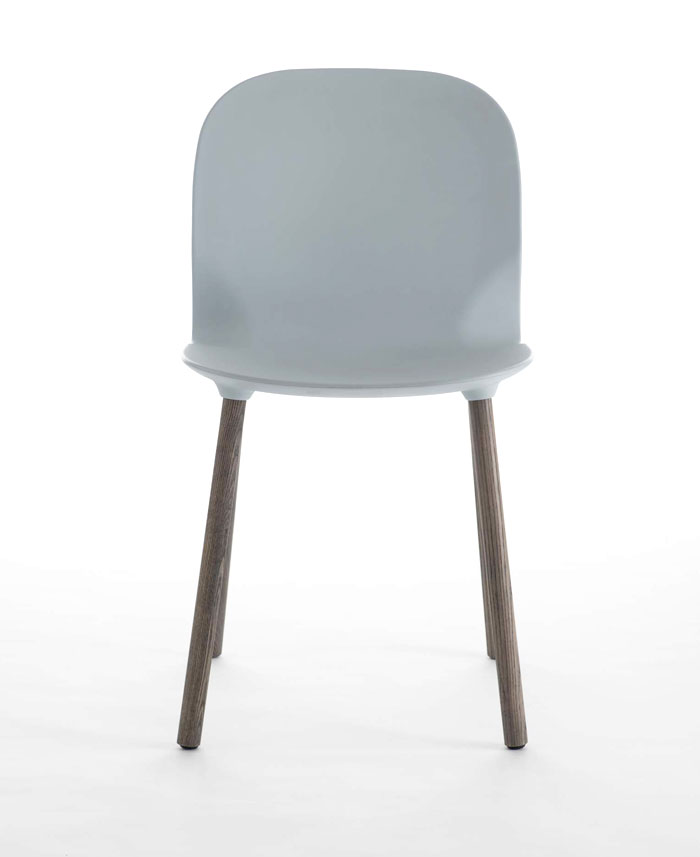 The inspiration from which we start is already intimately joined to some materials and the method of processing them, which have a special role among the ingredients of the project deriving from the fascination, the magic that is aroused by the relation with the materials; touching them, shaping them, working with one's hands are basic steps of the project, too.
The Napi design is born from the exact need for a comfortable and padded chair, yet not upholstered in fabric or leather. We chose the polyurethane for the seat-back shell: a material that we think is positively simple, not a snob. And we decided to use it in that way: a curvilinear seating that tilts and bends softly and continuously… therefore, we gave it the name of a butterfly. We regard Napi as a "pop" item: as for its intended use (for anybody), as for its formal features and materials".
Napi has a shell in flexible polyurethane, available in white, anthracite grey, taupe, brown, arctic blue, brick-red; it is made in a single piece featuring a rounded bending, which marks the transition from the seat to the back.
The cylindrical legs are in lacquered metal (white or anthracite grey) or in solid wood (walnut-colour stained ash and brushed ash, natural or grey-stained).