Want fresh, fashionable and unique solutions for a small space? Take a look at this sweet Paris jewel! The colorful lightness and playful spirit of this project is typical not only for the architects from SABO studio but is becoming something of a trend for urban French interior decor and decorative solutions in the last few years.
The architects were charged with remodeling and refreshing this small studio apartment located in central Paris for a young fashion designer – so style, chick, and unique charm are self-comprehensible. Every detail and clever solution of this relatively tiny space deserve special attention and time to enjoy.
We may start with the main living premise were the multifunctional thick wall serves as an artistic staircase, display, closet, fabric storage, natural and an artificial light source or sliding partitioning. Apart from this focal point in the living room the rustic charm and domestic warmth are emphasized by the preserved wooden beams of the ceiling and walls, the sunny wooden cladding of the floor and the bright yellow ornaments that frame the whiteness. The fashionable plasticity of the furniture and the colorful decorative elements complete the interior.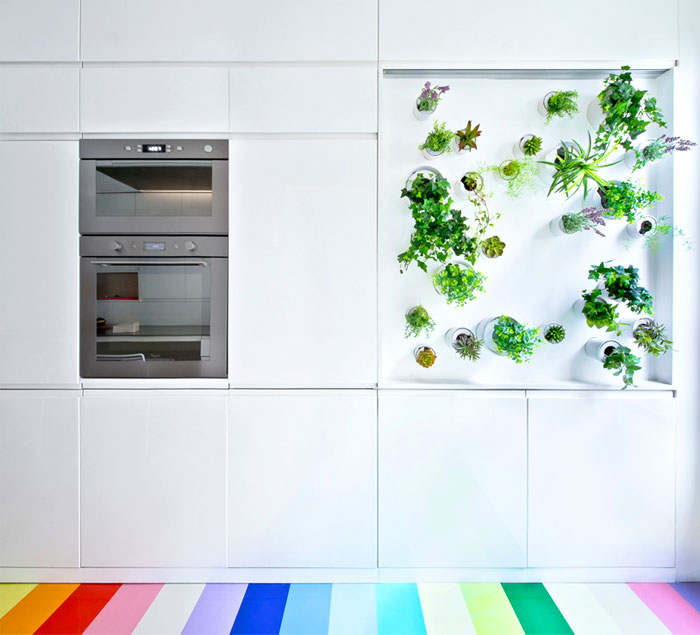 In the kitchen, the eye-catching colorful floor consists of a twenty-five natural rubber strips in fourteen different colors. Unique and refreshing solution for any narrow space. But what is rely charming and practical at the same time here is the vertical green wall that provides fresh aromatic spices for the cuisine and vitality for the interior. All together (not to forget the very refine and elegantly welcoming sleeping area) this apartment can easily be the dream for any single living in Paris.