Mammoth Café by Techne Architecture + Interior Design makes its mark in Armadale. After making their mark with Richmond favourites Touchwood and Pillar of Salt and Northcote hotspot Barry, husband and wife duo Jamie and Loren McBride have just opened the doors on their latest café project – Mammoth.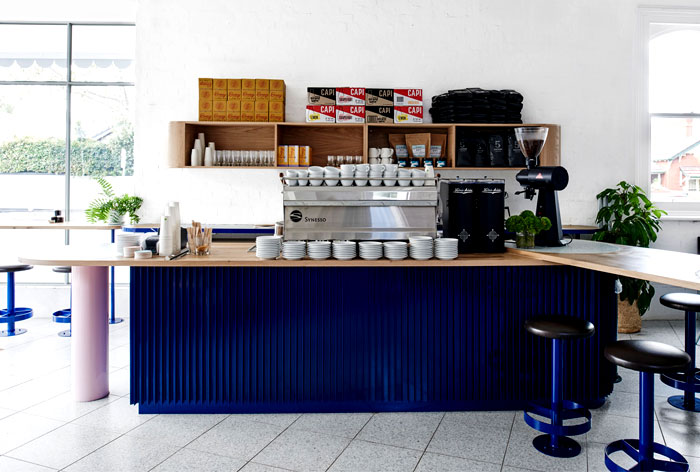 A unique triangular tenancy wedged between Malvern Road and Beatty Avenue in Armadale, Mammoth is the next chapter in Jamie and Loren's ongoing mission to explore further the potential of healthy, creative and contemporary café style dining. In the kitchen, ex-Hammer & Tong chef Emma Jeffrey has created a highly stylised, intricate and playful menu. The unique, all-day offerings are progressive and express an evolution from the McBride's other venues.
Engaging Melbourne architecture and interior design studio Technē to convert the site, the duo set Technē a brief of creating a peaceful, happy space that had a nod to subtle reference points including West Coast USA, summer holidays and the aesthetic of Wes Anderson films. Working with a site that was irregular in shape and split into two distinct sections, Technē began by workshopping multiple potential floorplans in line with the client's openness to exploring non-standard seating arrangements. In response, a sculptural front counter that incorporates bar-style seating greets guests and creates a central focal point of the room.
A variety of seating styles capitalises on the natural nooks that are created by the site's irregular triangular floor plan. In addition to loose seat and table settings, long benches, banquettes and bar seating at the central counter offer multiple configurations and varying energies that create a flowing and relaxed environment. In finishing and decorating the space, Technē opted for clean, simple white walls to increase the sense of space and reflect the natural light. Splashes of blue are an instantly recognisable signature of the design, from the powder blue terrazzo flooring and powder-coated navy blue metal table legs, to the varying shades of the blue aprons adorned by floor staff. American Oak benchtops and tabletops add warmth to space, complementing an abundance of natural light and the sunshine.
"Due to the nature of a small, triangular and split-level site, space planning for this project was initially a tricky exercise. However the quirkiness of the site quickly became an enjoyable design challenge for us," says Technē senior interior designer, Jonny Mitchell.
"From there, we sought out to reach a balance between functionality and aesthetic, with the bonus of a very fun set of reference points." According to Jamie, the hospitality duo has received an emotive response to the spaces created by Technē. "Ever since we started working with Technē on our cafés we have had strong feedback," he says.
"Technē hit the nail on the head with this one. We simply wanted an enjoyable, easy-going space that didn't follow trends, and we got one. Every time someone new comes into space they exclaim how beautiful it is."