The elegant construct of thin black lines-like a sketch corresponds harmoniously with the whiteness of space, the blurred contours and the minimalistic expression of the decor – class all the way! The Usine Restaurant is a contemporary jewel located in the heart of Stockholm, Sweden and its decor is logically inspired by the Scandinavian minimalism with a hint of industrial rawness. The designer Richard Lindvall made an amazing job, starting from scratch with a former sausage factory and turning it into high class restaurant – where every detail is created with thoughtful attention and although its atmosphere is fresh and strip to essential in a way, still keeps its warm, welcoming emanation.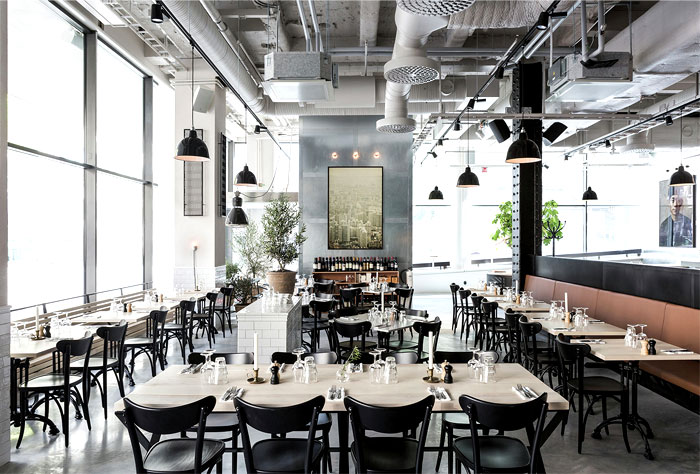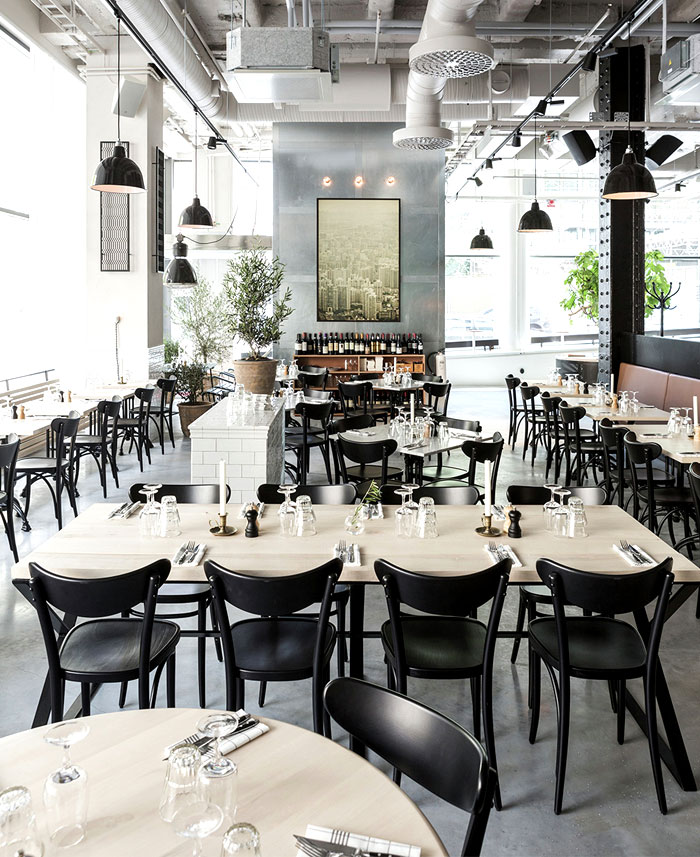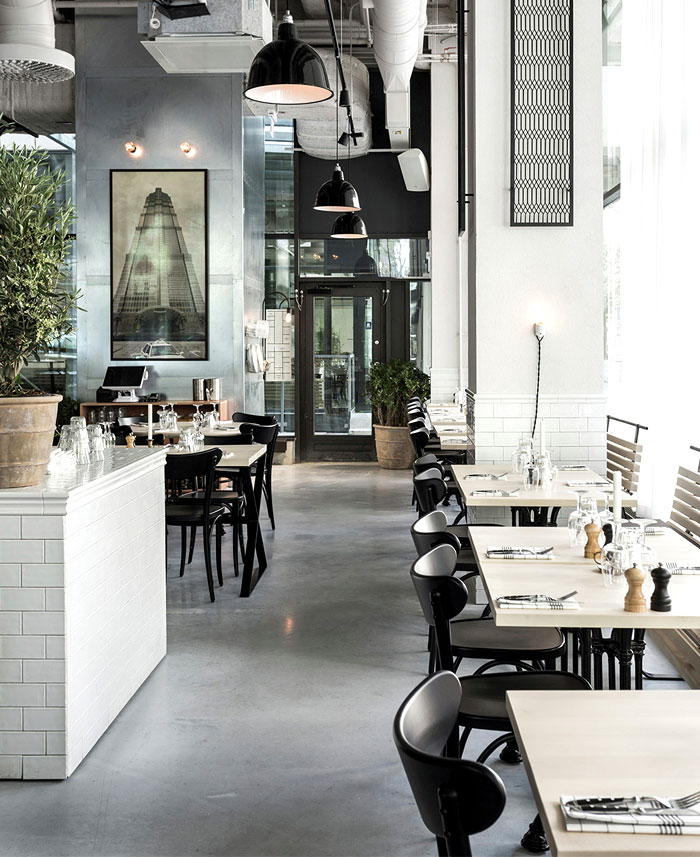 The creative, considered approach of the designer towards the composition of the ambiance for this restaurant is visible in each small detail and unique object of the decor. Many interior elements were found from auctions, purchased abroad or redesigned, (like the boards on the walls made from expanded metal that was found in Germany or the French oyster baskets holding the menus) but the main features are custom made and designed by Lindvall himself. He designed the tables and the sofas and had them made by a carpenter in Lithuania, sending material samples back and forth until he found the perfect finish. The concrete construct of bars, benches and tables were also very carefully poured on a place and even the signature fig tree that greets the visitors was especially chosen and brought to its new location.
The whole elegant emanation add stylish minimalistic of the premises (altogether three main spaces and some additional – Restaurant Bistro 38, Bar Poche 36, café, takeaway, reception and conference spaces) is achieved through the usage of high quality material palette. Maple wood, custom millwork and cognac leather upholstery accompanied with concrete, galvanized steel, white tiles and black iron details create stylish and urban but yet relaxed and smooth atmosphere. The spatial arrangement consists of three open-space rooms, all revolving around a central black iron structure each serving unique function for its area – bar, shelf, table. Large scale photo prints meets the visitors upon entering: it's an artistic shot taken in Shanghai – a result of collaboration between Lindvall and photographer Johan Annerfelt – representing a local cook. Altogether the place emanates charm, restrained elegance with delicate hints of Art Deco and Scandinavian minimalism – true fusion in the scene of modern interior design.