Are you curious to know how a trendy and modern Taiwanese architecture and design does look like these days? How the combination of Asian stylistics, clear lines and crisp materials is enriched by the contemporary trends and innovations in furnishing and decor and how this composition defines one functional and artistic space?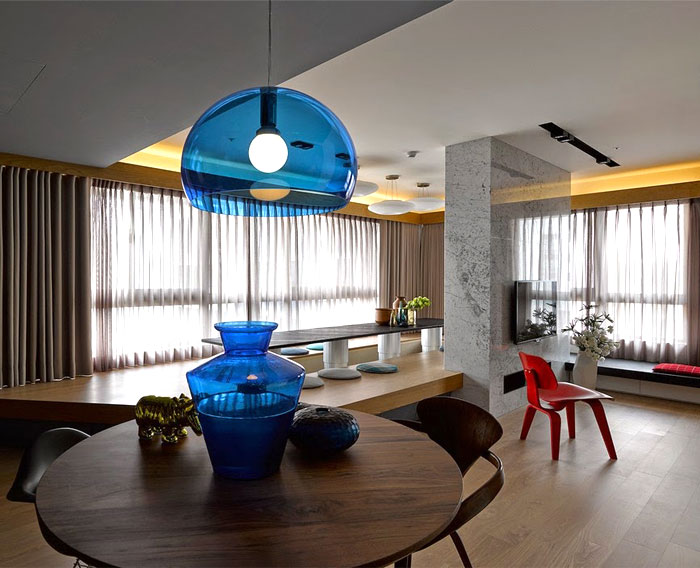 This project of Ganna Design possesses the young spirit and uniqueness of character that puts the design of this urban apartment on to the scene of world contemporary design. The living premise is united by tearing down a wall and opening space and divided into functional zones by elevating the floor. This combination and arrangement of space defines the unique character of the design.
The fresh colors – silver, gray and aquamarine blue, green tonalities bring not only cool and dynamic atmosphere but also carry a thread that adds to the youth and cheerfulness of the premises. This freshness of the colors is further reflected in similar approach towards materials, furnishing and decorative elements composing the decor. A combination between the undulated shapes of the modern furniture and the rectangular elegance of the bespoke cabinetry that forms the "glass" wall in the living zone is one of the cheerful details of this modern space. Actually the dominating presence of glass and mirror – as a decorative element, a functional solution (the matt doors of the glass cabinet) or even as lightning solution – brings certain fragile elegance in this urban dwelling. The combination of Asian aesthetics and western functionality is best seen at the design of the dining table – it's clear-lined and clever, adds charm and uniqueness and looks functional and comfortable.