This modern loft located in Bratislava, Slovakia is so spaciously looking, full of natural light and elegantly functional that deserves a detailed look inside. Don't you think?
The living premises – kitchen, dining area and living room, are connected in one open, two-storey high space that RULES architects combines cleverly the industrial element brought by the steel structure, which forms the bookshelf mezzanine and the warmth of the beautiful wooden cladding and other natural materials. In the kitchen zone bespoke white closets host all utilities needed including computer and stereo system near the soft- sitting space. Massive wooden table forms the center of the premise with its solid presence colour. Surrounded by six chairs with modernistic shape the composition perfectly embodies the idea of the whole interior design – a balanced combination of natural charm and modern edge. In this premise there are a few artistic details that capture immediately the observer's eye – like the colorful mosaic laid next to the spacious glass doors, or the silhouette of a clock centered above the coach, and of course the bookshelf mezzanine itself.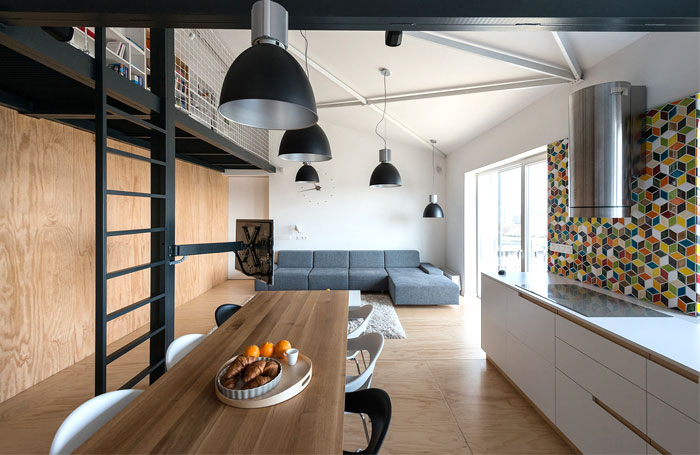 Other custom made, especially for this loft, details capture the attention also – like the flexible, rotating TV base or the artful and slightly industrial style lighting solutions and designers lamps. The privet zones of the loft (two bedrooms and bathrooms) are elegantly separated from the so called daytime premises by sliding door hidden in the wall. The mezzanine where the bookshelves are situated is one of the possible refuges for those seeking privacy. The hart of the living area is undoubtedly the soft and very comfy looking gray lounge. This and the puffy carpet create one very welcoming nest for a family relaxation zone. The loft may be created for a family of four but it also carries the dynamic modern spirit of a socially active young people with elegant, minimalistic arrangement of space.