A fashionable color, construction material, plastic element or artistic expression? The copper can be all that and much more. I guess most of our readers remember Tom Dixon (for whom we have written) and his renowned and trendy work with brass and cooper, his artistic lighting installations and sculpture-like lamps. Here are some more, not so well know uses and applications for this glorious metal.
The new colour of the year proclaimed from Dulux is – the Copper Blush – a stylish combination of metallic finishes and warm pinks and oranges that reinstates the more positive global outlook in design and the warmer spectrum of pinks, reds and oranges which are replacing the cool blues and greens of the recent years.
This tendency can be spotted all-around in recent global events held in Stockholm, Milan and even Shanghai. This color shade it's strong enough to shine on its own but works best when paired with white, neutral greys and (of course!) juxtaposed with the natural material – copper or other metallic colors such as gold.
The emerging of this color and design tendency reflects and complements all of the major trends characteristic for the design world of this year: the warmth in attitude and a renewed emphasis on shining and glitter.
The usage of the natural palette of the earth, from clay tones to sunlit highlights – all that reconnects the surrounding whit its roots. Including the skin tones that reflect human interaction with its surrounding and the sepia hues that brings the vintage hint of the past. In short – the Copper Blush it's a colour of depth and currency that combines wonderfully with the everyday, bringing a hint of glamour in each situation or interior design setup. Used as furniture and outdoor decorations the copper can be quite charming and intriguingly playful in creating unique ambiance: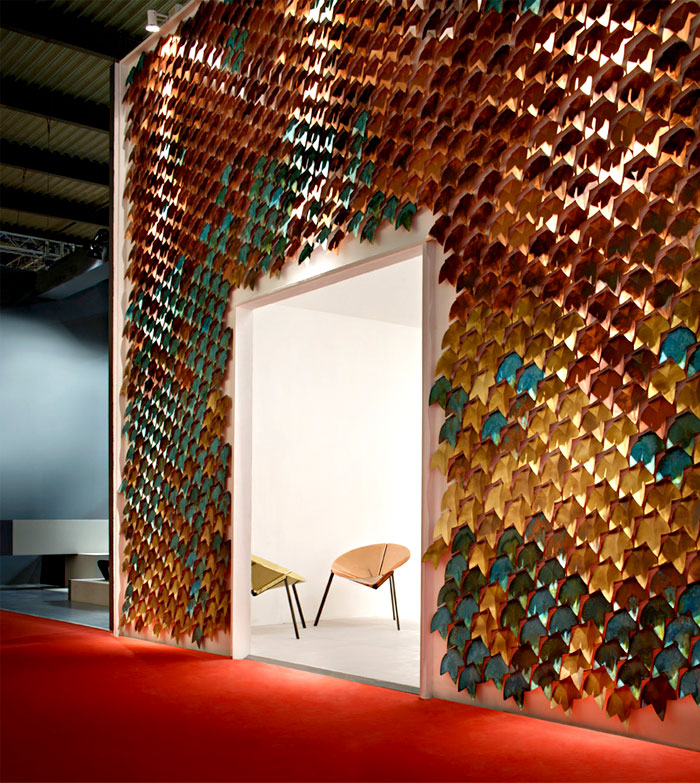 The new collections of De Castelli includes Tribu coffee tables and Pensando ad Acapulco armchairs, artistic details and decorations, tiles and cladding, characteristic pieces like Yoroi or the beautiful vine leave decorative elements – all created with the active participation of copper, brass or at least their natural coloring.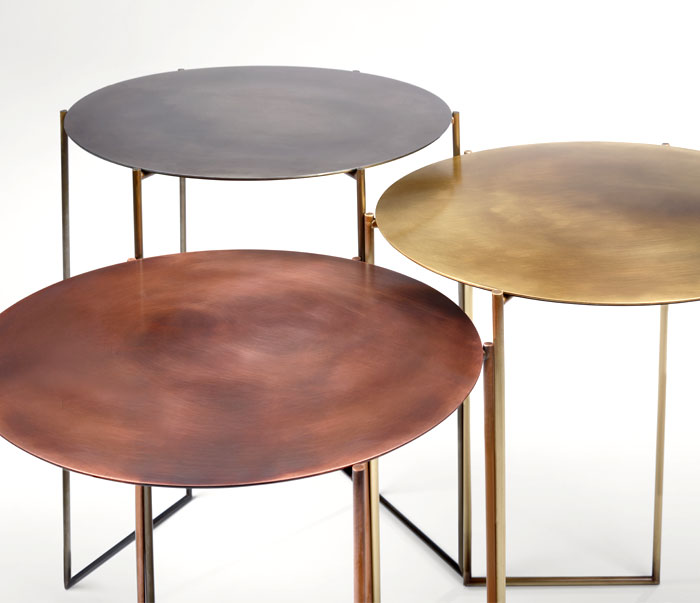 De Castelli designers artistically recreate a typical urban landscape that brings together the charm of old houses covered in green ivy and the dynamic presence of everyday life. One of the most attractive and beautiful pieces of their collection is Vertical Green – a decorative vine leave like pattern, that evokes a picturesque autumn scenery warmed by the choice of the material, copper, and its finishing thanks to the precious nuances of a warm palette: from reddish-brown to bronze to patina green. It sits naturally, artistically and will bring a specific character to any design: a great use for the warm metal.
The new kitchen superstars are white and copper. Copper can be used successfully in kitchen fittings and design bringing the old cottage rustic charm back in our culinary lives. The newest trend in kitchen design and arrangement brings at the front line the white color. Because white is timeless, classic colour, and it never goes out of fashion. It evokes positive associations, such as lightness and perfection, transparency and transcendence, purity and clarity. What's more, white lights up everything around it, making even small kitchen spaces appear more open, spacious and imposing.
It also offers virtually endless combination possibilities and proves that white is anything but bland and boring. And here comes the new design trend combining the white base with the glamour of shining copper elements – and so the kitchen becomes a place to spend time in with great pleasure and anticipation. Boasting lustre and versatility, copper becomes the new superstar in the furnishing firmament. This popular precious metal is quite literally making a gleaming come back and impresses with its diverse range of both ; appearance and application options: from high gloss to matt, brushed or smooth, in attractive shimmering nuances, such as rose gold, vivid orange and red gold through to warm brown hues. And over time copper becomes even more unique and beautiful, thanks to its naturally forming patina.
"Used discreetly and with due consideration – e.g. as an architectural design element, attractive accessory, a selectively assigned colour accent or eye-catching periphery colour – copper and white form a formidable team. And when combined with other materials, such as high-grade woods or natural stone and glass, comfortable kitchen diners can be created in an array of different styles: modern-urban, timelessly elegant, classic, nostalgic, vintage look or even shabby chic… "

A great example of this stylish combination between copper and timeless colours and materials are the newest kitchen designs from German manufacturer Rational.
This multifunctional and charming material can be used whit great success even in bathrooms design: a great and practical example of this are the new Foglio di Rame wall tiles made of glass and thin sheets of copper leaves. This impressive technic of glass laminated in copper leaf gives any setting a touch of elegance and glamor, and it's ideal for combining with white fixtures and marble. The collection of the Italian brand offers great decors with a wide variety of compositions – such as stony and metallic effects or glossy finishes, to be used as wall or floor tiles and open to create perfect matches between each other or with other materials and supplementations.
The most common and entertained usage of the shining presence of the copper can be found in lamps and lighting solution:
Offering great flexibility and diversity of the material, which is used for truly artistic expression and sculptural forming of everyday functional elements the copper has a rich implementation into the lighting installations of modern interior design.
In time we have presented to our reads different brands, designers and trend in this sphere, here is one more: the Copper Blow light which is a pendant light designed to accommodate a low-energy bulb and it is a development of the White Blow Light made for the Great Light Giveaway in Trafalgar Square, London 2007.
Held in place by an industrial rubber plug, it gives a strong directional light through the clear polycarbonate base. This example, like many other beautifully designed lamps from the gouges metal- copper can be fitted into many divers interiors and thanks to its clear and elegant line and stylish presence will always bring unique character and artful atmosphere into the space.