Located in a historical city center of Kiev, a new restaurant and bar – Bottega Wine & Tapas is a true hidden gem for the lovers of Spanish cuisine. Tapas, wine, and cocktails are the main features of the venue. The project was made by a young designer team Kleydesign (Yova Yager and Ira Miller).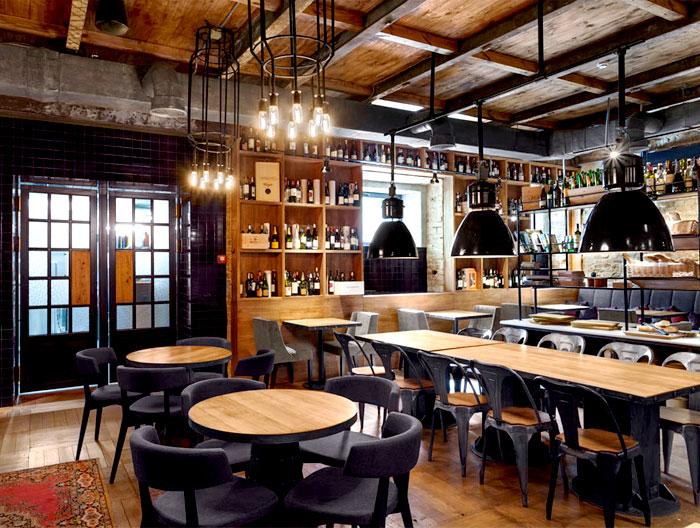 Located in a hundred years old building, this restaurant is semi-underground embedded. That happened because of a global restoration, when the ground level of the city streets rose, and that once full residential floor with a ceiling height of 3.5 meters has gone underground. The room that once used to be in a poor condition was renovated and has found its new loft-charm. The main feature of the room is centuries-old wooden beams and brick walls. The restoration of the walls, ceiling, and floor, took six months. Wood, brick, and metal are the main materials of the venue. The color scheme of the interior is based on the nuances, but there is also an expressive accent — a garnet-colored wall. It was made with a special technology by the artist Maxim Kazarin.
The restaurant has two big rooms. Its nice feature is that the passages between them are arranged in such a way that you can cross it around from any part of the room. The bar area is located at the entrance. It was designed for those who want to dance and have fun all night long. The height of the bar counter is unusual — only 900 mm. The countertop of it is made of wine crates. Thus, the bar is more like a table at which you can chat comfortably with the bartender, or, for example, sit down and work with your laptop. The second room has a fireplace where guests can comfortably sit on the couch or in a chair at a low table. The Central table is suitable for a company of ten people. It best fits for the wine tastings and dinners.
The zone with sofas visually separates the other space from the buffet. One of the walls is decorated with plenty of Spanish wine and prosecco cases. A huge metal door with glass inserts separates the spacious kitchen from the room. The sense of comfort and softness is brought by different details in the interior, such as carpets on the floor, pillows, candles, wine boxes, books and magazines about wine. Most of it was found on a flea market in Bergamo, Italy. Most of furniture was made in Ukraine, by the PK-Verdi company, which made it with a creative approach on a high-quality level. Despite the fact, that the venue has many sources of naked light, it remains those cozy.
Place: Bottega wine & tapas restaurant
Location: Tereshchenkovskaya st., 13, Kiev, Ukraine
Function: restaurant
Area: 240 m2
Status: realization 2015
Designers: Yova Yager, Ira Miller
Studio: Kleydesign.com
Photographer: Anya Garienchik