Are you curious to know how does the modern interior design and architecture are developing in countries with not so stable traditions and emblematic projects in the sphere? Here is – for example, this project of Nuca Studio located in Bucharest, Romania – this contemporary home is impressive with is simple, clear elegance and the unostentatious entwining between art, functionality and comfort.
The fluidity of the premises is smooth, open and unobstructed – the interconnected spaces of the living areas, dining and kitchen zones and their connection to the upper levels by stylish white staircase not only fills the spaces with maximum natural light but also gives them certain grandness of scale and the benefit of free float. The same dynamic correlation the architects have ensured for the connections between inside and out the vast floor-to-ceiling windows and sliding doors bring not only the natural daylight in but facilitate dynamic access to the inner courtyard and swimming pool premise.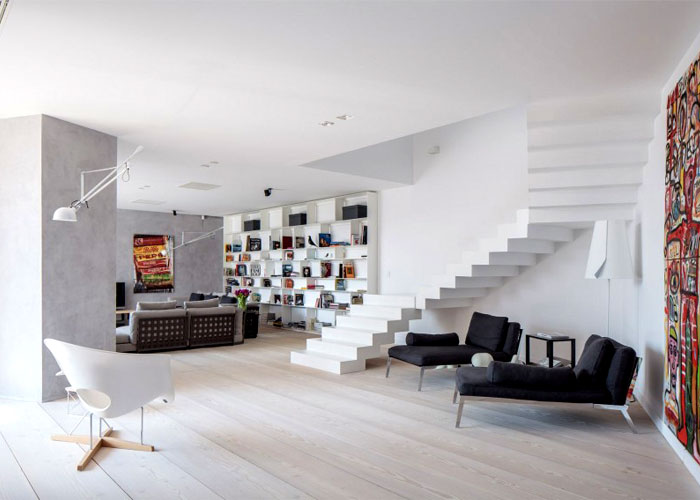 The furnishing is stylish, trendy and functional at the same time, bringing comfort and elegance into the interior decor and the garden's arrangement. The presence of designer's items and bespoke pieces gives character and unique style to the house. Also characteristic for this interior design composition is the special attention towards the smallest detail – the unique lamps and lighting solutions bring artistry and playful twist in the interior, the contemporary design of the bathrooms is fresh and unexpected touch. The beautiful timber alternation of the facade corresponds with the extensive usage of wooden cladding and furnishing in the interior, combined with other high-class materials and the solid urban presence of exposed concrete. All this combined with focal points of contemporary art pieces, unusually shaped furniture and fixtures and character-defining architectural constructs, creates one truly remarkable modern home.