After being appointed by Hawthorn Leisure, the North West architecture and interior design firm DV8 Designs carried out a major revamp to create a stripped back look that boasts rustic charm and signature pub attributes at popular West Yorkshire pub – Tap and Barrel.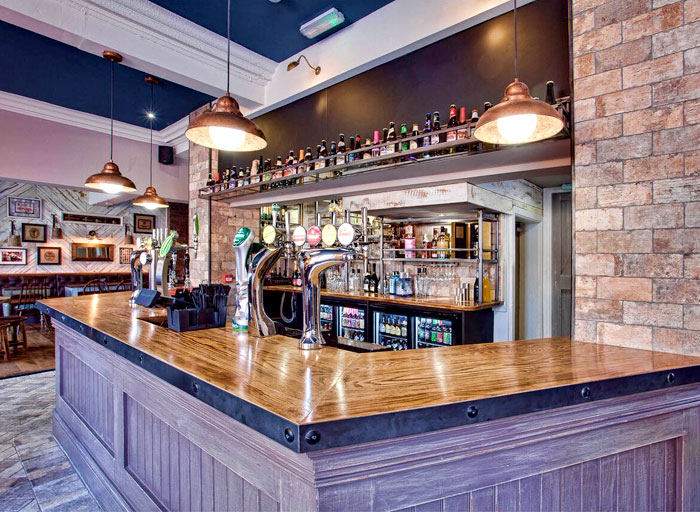 Headed by MD Lee Birchall, the Warrington-based architecture and interior design firm was appointed by Hawthorn Leisure to carry out the impressive overhaul, which aimed to transform the property into the modern day while 'holding onto its rustic charm'. Following a series of creative modifications, the new craft beer inspired pub boasts a stripped back look featuring classic checks and an earthy colour scheme, together with cosy fireplaces and contemporary exposed lighting.
Lee said: "We really wanted to accentuate the venue's original urban feel and to do this we have introduced a range of mixed wood and leather furniture, exposed brick textures, as well as a warming colour palate throughout the property. "In order to add an interesting new dimension to the venue and create a true craft beer appeal, it was important to perfectly counterbalance both signature pub attributes with visually appealing decorative features that add character and depth to the design.
"By putting the bar in the middle of the pub, we've managed to create a more interesting space, a vibrant atmosphere and an overall an enjoyable place for people to relax and unwind." DV8 Designs, which was established in 2006, has attained high acclaim through its impressive and diverse portfolio that includes residential, bars, pubs, restaurants, hotels, leisure centres, swimming pools, spas, golf clubs and offices.
Lee added: "As the Tap and Barrel prides itself on providing local and regional ale and craft beer, we feel that the new design certainly reflects this. "Due to the venue's busy location, we wanted to offer something a little different for customers by creating a cosy haven away from the hustle and bustle."