Natural-Stone innovator Antolini exhibit at the ICFF show labyrinth constructed from some of the World's rarest materials, real natural stone. Thus, the exhibit at ICFF is part of an ongoing series in collaboration with the master of design Giulio Cappellini (of MOMA fame) to demonstrate the infinite potential of natural stone. Cappellini selected Antonio Facco to design this one-off exhibit using Antolini materials only for ICFF. In total, Cappellini selected six designers to create seven unique exhibits, one for each of the seven major trade shows of 2015. Then, Antolini rapidly constructs these one-off feats of architectural fashion within days of the trade shows where they appear.
The setting designed by Antonio Facco for ICFF New York harks back to the idea of the labyrinth in order to emphasise the beauty and honesty of certain materials offered by nature, leaving to us the task of discovering and describing them.
The story they tell turns on the metamorphosis of stone, to bring to life experience, a search for the potential of stone. The visitor's route descends from an undefined space to a defined one, entering into profound contact with the material. "The change of finish, the monolithic verticality of the labyrinth and the final arrival in a defined, habitable space are some of the aspects of a journey beyond the limit. Indeed, the labyrinth, although enclosed in restricted space, is a universal emblem of the search for the infinite that will stimulate us to understand the potential of an incredibly valuable material like natural stone. " Inside the installation, Jasper Morrison's BAC Chairs were used.
Antonio Facco was born in Milan in 1991. He collaborated with many architects and designers who, during his academic career at Milan's IED, encouraged him to establish Dedra in 2011: a multidisciplinary channel of art and design that brings together creative young people with different skills and geographical locations (Milan ITA – Urbino ITA – Brighton UK). His works were displayed at the Fuorisalone exhibition in Milan and, following the attainment of a diploma in Interior Design, he began to collaborate with Cappellini on set preparation and visual communication. The deepest root of his passion lies in his wide­ranging curiosity together with the need to tell stories that lead human beings to identify with the creative image presented. His aesthetic can be summarised as an intense dialogue between formal impulsiveness and reflective research into the material limits and new technologies.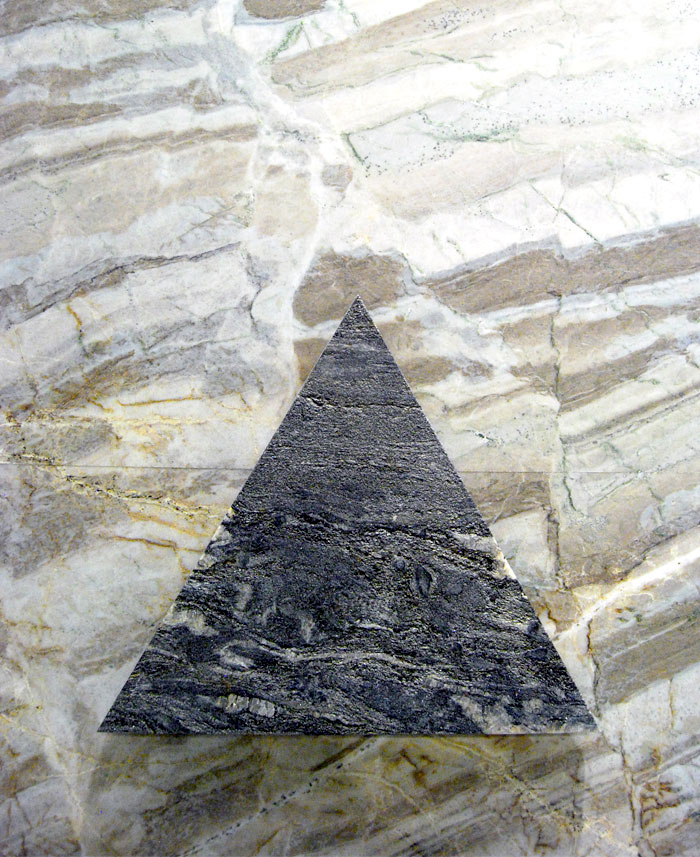 Irish Green is a natural stone that glorifies in shades of green, characterised by the absence of uniformity of colouration and its gradually shading from dark to light. It displays some whitish veins and others of a translucent apple colour that make this stone unique in the world. Geologically ancient, it was used by the architects of the Renaissance to bring the colours of the fields and forests to the splendid palaces that they adorned with magnificent works, those same works that are so admired by tourists for all over the world. Due to its varied veining, Irish Green enables unusual layouts to be created, making every construction unique and unrepeatable. The reduced absorption coefficient makes it perfect both for use inside and outside. Suitable also for floors and claddings.
Marbleised veins of wood give rise to Corteccia. This is an exotic material particularly recommended for interiors, a soft quartzite that is also suitable for exterior use. Corteccia is a soft quartzite from Brazil with a white background and veins at 45° of a colour that goes beyond the hues usually associated with soft quartzite, the greys and the whites: hints of brown, cream and orange in the veins make Corteccia an ideal choice for rooms of more contemporary sizes. It recalls the light covering of the trees with its shades and speckles, a natural tribute of stone to the great trees that tell of the history and life through their bark. The colour of this soft Brazilian quartzite brings warmth to the whole room, entering in harmony with any furnishings, with hues of coffee or grey through to white, natural wood. With its linear veining, Corteccia is also perfect for worktops, floors, walls and kitchen surfaces. This is a hard stone, compact and resistant, with fine grain and a sugary appearance.