Graffiti walls, beautiful wooden structures and cladding, urban polished concrete, unusual artistic shapes, designers lamps and furniture – three words to describe it – art, art, art, well and office if you can believe it? This dynamic, playful, urban office is designed by Israeli architectural Studio Roy David for two companies sharing the same roof.
This challenge was meet with artistically industrial and eclectic design that reflects the office's culture and the companies' politics – which is to inspire creativity and young dynamic approach. The designers left clean white walls, white industrial ceiling and grungy concrete flooring to serve as a blank canvas for the custom-made wooden furniture and the colorful elements. The exposed piping and the minimalistic and natural materials palette (oak wood, iron, and OSB wood plates) also add to the urban free float of the spaces and design.
Everything from the lighting – fixtures to the furniture and small decor details is custom-made. That gives the space its unique character, the wooden beam screens that separate the premises, the cute coffee tables, the billiard play area, the cheerful lamps and walls – every little detail is charming and character defining. One of the most artistic features of the premise – the graffiti painted support columns were created by famous, street artist during a party gathering for the design team and the local artistic neighbors – so the fun was successfully transferred into long lasting expression.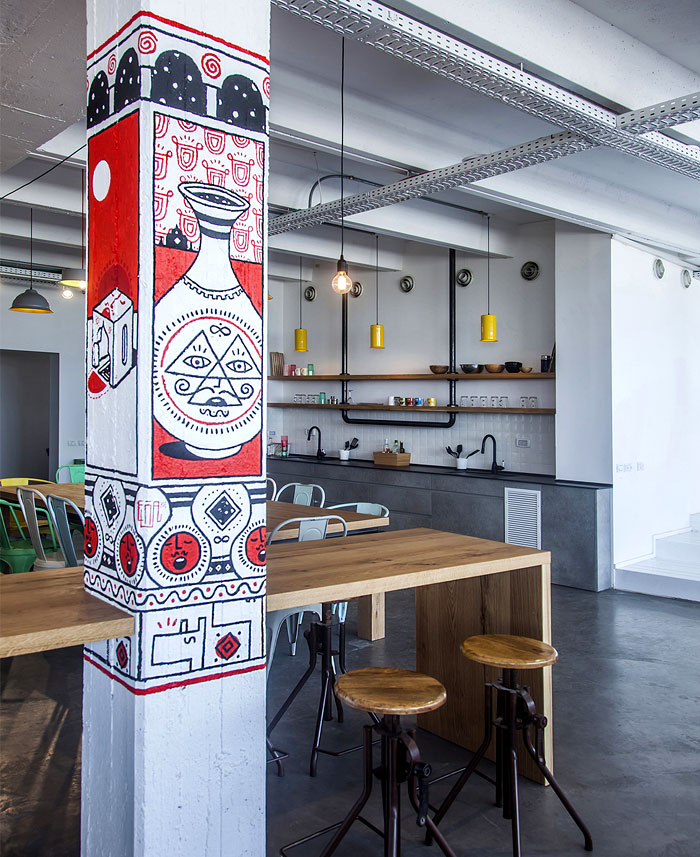 The different zones of the offices, like the library, are furnished with various types of contemporary furniture – here couches are combined with an ancient Persian rug, a huge iron and oak wood book shelves are decorated with cheerful elements. The kitchen and dining areas are also designed with industrial pipes that are supporting the top kitchen shelves and create in this way a unique furniture composition. The large communal dining table situated at the center of the space completes the arrangement and encourages interaction allowing the ideas to emerge. Photographs: Yoav Gurin