Lithos Design, with its experimental work Retina, is taking part in the Digital Lithic Design exhibition curated by Raffaello Galiotto for leading Italian companies in stone material processing. Retina, designed by Raffaello Galiotto in his dual role as designer and curator, is a shaped and perforated modular panel that is distinguished by a captivating three-dimensional appeal and can be applied as a decorative partition, achieved thanks to the use of diamond wire cutting without any manual contribution and in a fully environmentally-friendly way.
"The ancient and fascinating Michelangelesque concept of liberating an intrinsic figure from a block of marble should undergo a re-thinking process in light of a period of intense consumption of materials and the raised collective sensitivity towards their use", explains Raffaello Galiotto. "The Retina project is based on this principle and on the study of the shape-related possibilities that technology allows According to reduced waste".
The Retina work sums up some fundamental principles of Lithos Design: total industrialisation, creativity integrated and enhanced through technology, environmental-friendliness thanks to the optimisation of the industrial process through reduced waste and energy savings.
In the genesis of Retina, the design planning phase started with programming the indispensable 3D software to direct the machine to use to cut and shape the stone, with a dual purpose: styling impact and reduced waste. The design of the cutting path is an essential part of the creative process that, although it remains creative, is still tied to specific geometric rules. The block of marble therefore undergoes a series of cuts in sequence, undulated, crossing and overlapping, in order to achieve the desired figure and its multiples, from one cut to the next, creating the modules which are then intended to be put together to achieve the object.
The three-dimensionality consisting of blocks and voids, the perforations, the various facets, the satin finish surface and the endless extensibility of Retina – all this is achieved through the reiteration of a single cutting path that has been carefully designed and planned, and achieved with the technology applied to diamond wire cutting.
Digital Lithic Design, which was inaugurated when Milan Design Week opened and which is open to visitors until 24th May concurrently with EXPO, aims at emphasising the excellence in the stone industry in Italy, enhancing its special features such as the in-depth knowledge of the material and of the production processes, as well as topical thoughts on the sensible use of materials, the containment of waste and energy savings which, in actual fact, have become essential creative-processing factors to enhance the value and appeal of stone.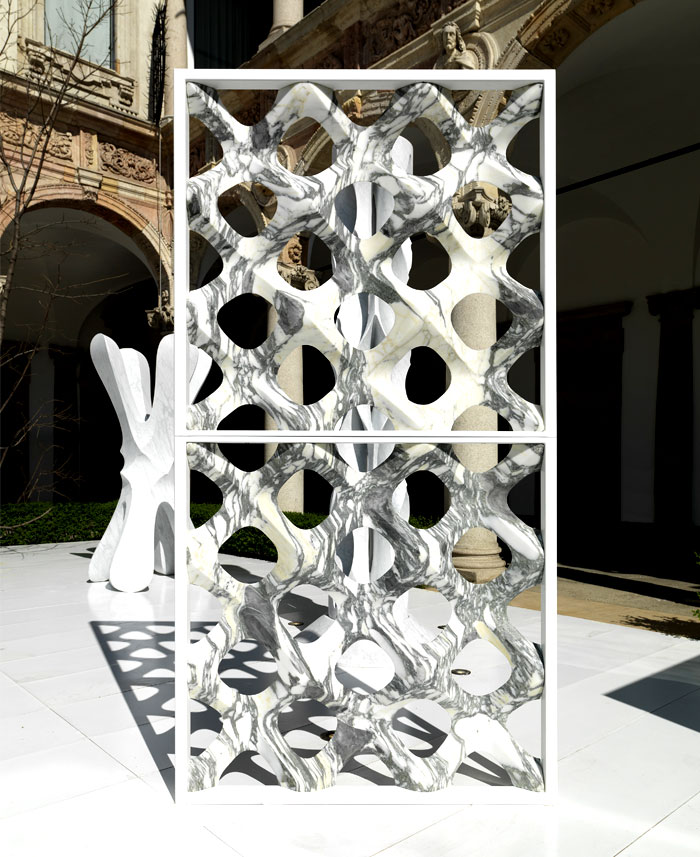 Lithos Design is taking part in the Digital Lithic Design exhibition at the University of Milan, from 13th April until 24th May 2015.