We are definitely looking forward to January when in Hannover, Germany will open doors the new edition of DOMOTEX, the world's leading trade fair for carpets and floor coverings. Here the newest trends, colors, forms, materials and innovations in floor covering and carpets fashion will be presented to the public and the feel that floor covering is an essential part of the interior decoration, not just some small detail, will become a fact. As we have written before there are many new trends that turn the floor into an exciting and even defining design factor: the rich variety of stimulation for senses, the graphic and artistic solutions that will compliment any space or the innovations that will ease the cleaning and maintaining of floors – all does it counts.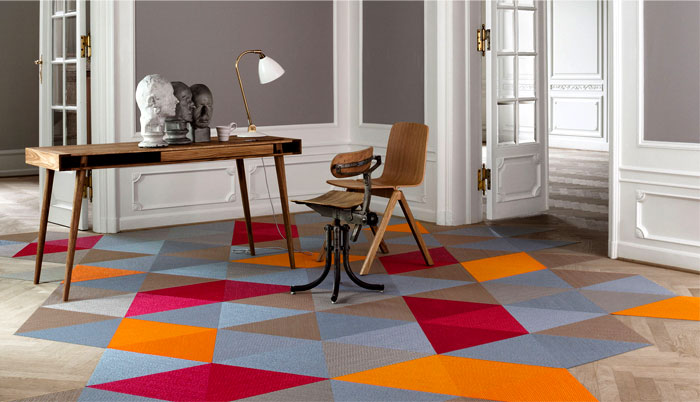 But here are few tips of how we expect the new tendencies in carpeting to "unroll" in next season:
The Strong Come-Back of Carpet Tile
An artistic jigsaw – the new collection of Vorwerk "Elementary Shapes" is created from the master of collages and honeycombs Werner Aisslinger – this virtuoso with creative hands follows honorably the footsteps of Hadi Teherani's highly successful carpet tile collection. We expect that Aissilinger will ingeniously develop the artistic tendency, and he does not disappoint combining six basic geometric shapes (four end pieces and two rectangular connecting pieces) into a one-meter-wide patchwork, – which can be transformed into different designs of varying lengths depending on how the tiles are combined – the designer creates a masterwork in rich variety of color and materials.
Thanks to the artistic differences in color, shape and materials this custom-made jigsaw carpet can become a wonderful focal point in any space – bringing fresh look to long corridors, defining a soft spot in every stone or concrete floor and much more. Redefining the traditional rug, with very important innovation for practical house owners – an anti-slip underside that prevents the jigsaw of moving around – Aisslinger offers fresh, colorful, artistic and incredibly flexible flooring solution.
Vinyl Fabric Carpeting – a Modern Take on Traditional Wooden Parquet
The collection Silence by Bolon presents innovative and elegant flooring approach that withdraws its inspiration from the tranquil beauty of Swedish landscape, combining the acknowledged influence of classical textures ( like traditional wooden parquet patterns) with high-tech, unique weaving techniques. The stunning depth, 3D effects, and mesmerizing light-play are additionally enriched by the tactile warmth and softness of this flooring. Intriguing variety of colors and layout in the form of tiles, rolls or planks brings contemporary integrity to this new collection.
Hand -Tufted Wool Rugs
The handmade craft with natural materials is a fashion tendency that never dies, it only upgrades. In carpeting the hand weaved wool rugs are symbol of luxury and artistic expression to some of the greatest names in design. Those designers are the ones that define the feature trends in coloring, forms and techniques. The carpets of Claudio Colucci are perfect example of innovative design and the creation of out of scale fashion. His new, artistic collection CELL created for Now Carpets emanates contemporary quality, welcoming softness and artistic approach towards colors and shapes. It's something that just invites you to snug in.
The Carpet as Artwork
This statement may look to some as an exaggeration, but in some cases is the absolute truth. Nowadays in interior design the artworks don't only hang on walls; they are an integral part of the furnishing and design – carpets are no exception. The handmade rugs and carpets have rich artistic tradition that emanates a high skill craftsmanship and a luxurious outcome for any owner, but the names of some modern designers are necessary to be mentioned here; The handmade carpets by Jan Kath can be seen lately on display as if in a picture gallery. His "Riot" collection introduces carpets with implicit organic shapes and soft undulations that capture the imagination.
The carpets designed by Hamburg based artist Hossein Rezvani are representative of modern work with roots from Iran. The finest carpets possess up to 400,000 knots per square meter and are made of wool from the Persian highlands and natural silk. A carpet of six square meters requires almost 14 weeks of knotting. In reality this contemporary fashion artist is setting a new trend with Persian kilims background that uses a decoration with geometric lines instead of floral patterns.
In conclusion, we may note that today manufacturers are very committed to sustainability specifically when it concerns plastic products – the re-usage and reduction of waste, breathing new life into existing materials are high priorities. Using old leather and rubber is not a new idea but mixing it with natural fibers – such as hemp and jute so that you can see the traces of the first life in the products – is something that we admire a lot.