Where is this place, where the dark Middle Ages gothic architecture meet inventive contemporary design, where enchanted forest meets robust furniture craftsmanship, beautiful stone arches frame rich history and modular paneling at the same time?…well we were intrigue to discover this French former monastery complex turned into modern art hotel-restaurant. This astonishing place has been, in its time; Saint-Lazare priory, a hospital and a hospice for nuns before becoming a hotel and restaurant in the 1980s. The designers Agence Jouin Manku – whose past projects include the lounge in Munich's Bayerischer Hof hotel, – had undertaken a serious task – to introduce modern and dynamic approach in designing a place with rich history and full spirit. Incorporating natural materials palette (wood, stone, and linen) and light color scheme – to preserve the tranquil serenity of the space – the designers use unique custom made furniture, intriguing damasks and partitions to invite the new – time spirit in.
A lot of the design elements and furniture pay homage to the previous purposes of this monastery complex. For example, the padded linen headboards suspended above the beds in the tranquil and stylish bedrooms, scattered across different wings of the complex, are intended to reference the hooded habits worn by Fontevraud's monks. Or the beautiful long table located at the former refectory with its enchanting line of candles and custom made chairs that can fold up and be stored in units influenced by the stalls found in churches. Another respectful curtsy from the designers to the original architecture and layout of the premise is the restaurant with its banquettes designed to sit on top of preexisting stone surfaces, the sitting arrangement overlooking the central herb garden, just like in old times and the marvelous walnut and brass lamps, which play with the acoustics under the Gothic arches.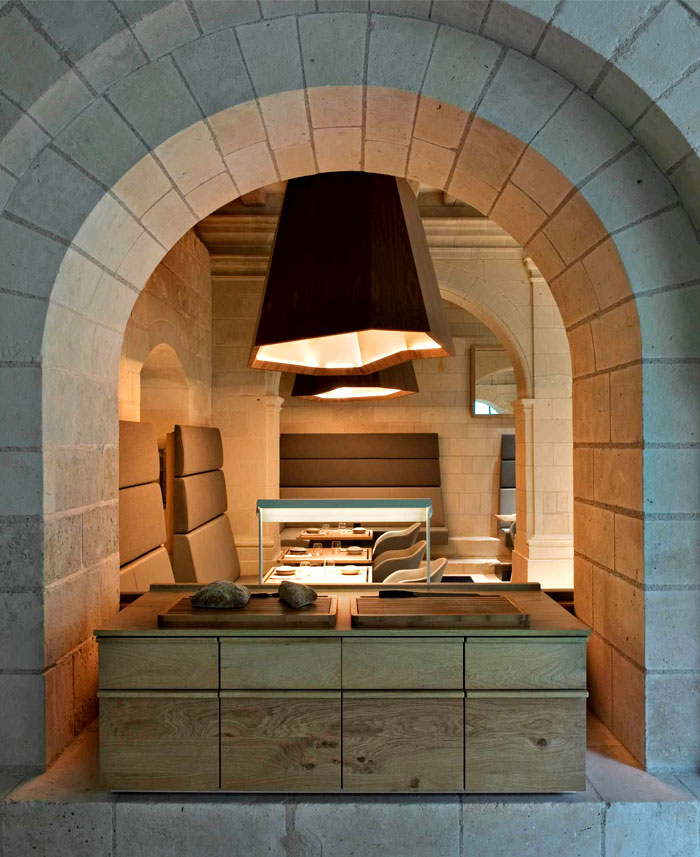 Other elements of this rich and intriguing hotel – restaurant design are modern, innovative and in dynamic dialog with the era – like the interactive touch-screen table tops of the publicly accessible bar and its tablets integrated into the furniture, which present content and games relating to the priory's history. This bar space is quite interesting and innovative as design solutions – with its textile screens and solid oak structure of the bespoke furniture that incorporates booths and tables. Wood – walnut and oak, solid and beautiful, light – stone, rich fabrics and smooth surfaces everything throughout the hotel is glamor and lux , elegance and history.