No doubt the wishful – thinking and the imagination capturing focal element of this luxuriant penthouse is the daring swimming pool, perched on the edge of a specular view and offering many adventures and great leisure time. The swimming pool is entirely made from precious dark stone, which is acting as a mirror for the city reflection and as a sun collector, naturally warming the waters – what a swim experience that will be? But that's not all; of course, this contemporary penthouse situated in Tel Aviv – Israel has much to offer in terms of art – design, accomplished furnishing and color combinations that can capture the imagination of the most spoiled observer.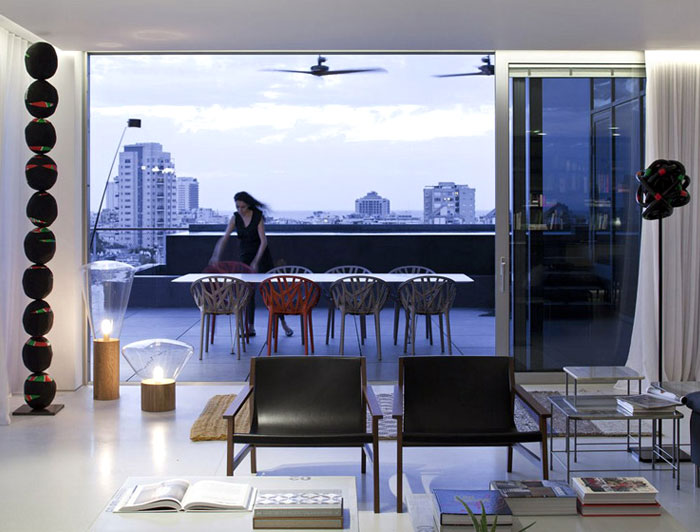 This unconventional design by Pitsou Kedem blurs the borders between private space and outdoor space. The Pitsou Kedem Architects set on creating an unconventional space with transparent and blurred borders, sliding doors and wide panoramic windows. Using raw materials – exposed concrete wall with contemporary metal bookcase, poured terrazzo for floors, wonderful rugs and textures throughout the apartment – all to the end of creating an original and inspiring atmosphere.
The contemporary furnishing, its unusual and intense colors and shapes in combination with the owner's large art collection, merge into artistic and unique ambiance. The wide variety of the grayish tonality in combination with pinching yellow, deep blue and vital green ornaments and details give to the space certain pop – art playfulness that can be very inviting and cozy.