The exquisite materials – walnut custom made furniture, great quality oak parquet, delicate textures and amazing artistic brass lightning solutions by Tom Dixon – turn this Zurich located penthouse into delightful interior experience. The design – duo Dyer – Smith Frey used stylish color palette – petrol blue, variety range of gray and subtle sand tones. This elegant canvas in combination with custom made furniture from their special DSF collection, soft and elegant furniture that carries the 80'ts silhouette and spirit, leads to envisioning of an unique and stylish – playful ambiance.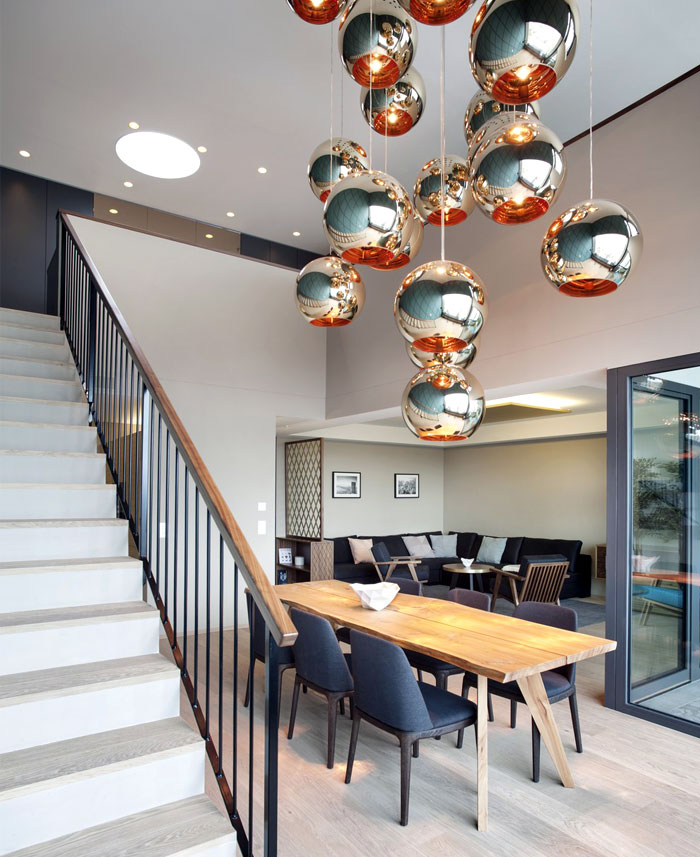 The whole premise of this 120 square meters penthouse is ideologically interconnected, not only by the impeccable stylish choices of the designers, but also through the usage of their signature sing – the romb – a pattern that repeats itself thematically throughout the apartment – on furniture, walls, as wooden lattice visually separating the premises, acting as a delicate thread, which is banding the artistic aura of the spaces.
The great panorama view, the comfort-emanating vintage furniture, the rich spectrum of different types of quality wood, make strong visual impact, despite the clear design language and minimalistic core of the furnishing. The focal point in the main living area is, no doubt, the gorgeous brass lightning installation – a disco element, spicing up the premise, created by the famous artist Tom Dixon. All together this European penthouse is one stylish and artistic example of contemporary design.