Last week the 53rd edition of the Salone Internazionale del Mobile took place in Milan from 8th to 13th April. This year the Salone was split into three style categories: "Classic", "Modern" and "Design". Amazing designs and products were exhibits at the showrooms; over 2,400 exhibitors participated bringing the latest and trendiest furnishing solutions into the attention of the visitors.

With the summer approaching we paid special attention to garden furniture and shadings – here are some of the best peeks from this year's edition of the Salone. Classical, romantic and comfortable outlook, with a certain playfulness- those are the hand-woven, swing-chairs created by Daniel Pouzet – SwingMe. The designer had created a cozy and elegant nest that consist of four strands of fiber, each with a different shape, texture and hue – and had expertly shaped and woven them to create a spacious comfort zone in which the user can fully enjoy the sun, the garden and perhaps… a cup of tea.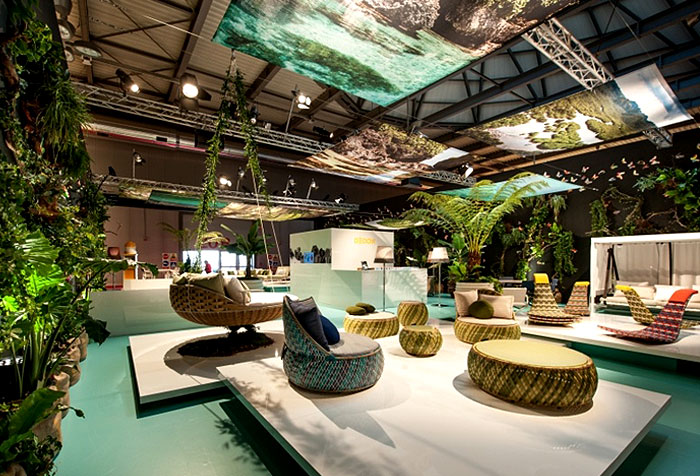 Another woven delight is the Loveseat – the newest hi-tech fiber product of Dedon that combines – impeccable style, cozy comfort and high design innovation. This new garden furniture is not only a beautiful and elegant addition to any outdoor but also has some clever aspect that make it extremely comfortable -a built-in table with swiveling tabletop that brings convenience, without taking up space, a rollerblade wheels allow the whole seating to be positioned toward the sun or a better view only with a gentle push.
"Ahnda" is another amazing creation of Stephen Bruks –the Dedon's designer. Indoors, outdoors or somewhere in-between- is the theme for this summer collection that challenges the borders of a definition for in-door or outdoor furniture. This lounge or wing chair is impressive and comfy with loosely woven seat cushions from soft bands that are made of textile fibers in different shades. The chairs have two-tone aesthetic- an essentially transparent structure with soft, colorful add-on cushions. A stool, a low table and several accessories round up a collection, which comes into different color themes all a delightful edition to the sunny summer garden.
Another great outdoor acquisition of this year Milan exhibition is the unexpected and pleasant surprise by Knoll and its Saarinen Table (or Pedestal Table, as it is widely known).
This iconic table will be available for outdoor use – for a first time ever. Innovative for its time (1950ts) the one – legged table has developed through the years- preserving its elegant style and unmistakable aesthetic. This minimalistic beauty has been offered through the years in many different colors, materials and textures- marble, wood or laminate top – now the Pedestal table is presented with Acrylic Stone that makes it suitable for outside conditions.
And what is a garden and leisure summertime without proper sunshade protection? Paola Lenti has an interesting and artistic offer for the garden shade. The Resort system and Bistro combine high-tech steel and aluminum elements with light design and pure forms that can be combined and assembled according to the space and garden we have. Style and functionality in combination with unmistakable signature fabrics- the collection of garden shades, ottomans, chairs and tables presented by Paola Lenti this year is colorful, elegant and multifunctional- an everlasting combination.
The luxuriant beauty of nature, the evocative power of a place filled with history, the minimalist refinement of a project by Lissoni Associati, the rich texture of the Laminam surfaces and the luxurious comfort of outdoor furniture by Living Divani: all this is to be found in the "Giardino Geometrico" installation created in the Brera Botanical Garden as a joint project with the magazine Interni throughout the Milan design week: an open-air display where elegance is mixed with cultural references, botanical rarities and emotions, to surprise the visitor and surround him with a timeless and magical atmosphere.