International presents resolving in an eclectic interior, unite over 50 artists, craftsmen and designers to create this extraordinary Hotel in Canberra. Australian firm Fender Katsalidis Architects and Japanese studio Suppose Design Office put their wits together. Using local materials, recycled timber and exposed concrete create an amazing interior fusion of vernacular and contemporary, artistic and industrial sensation in the versatile premises of this unique hotel.
The strong artistic suggestion of the project begins with the unusual undulating shape of the facade, carries us through the grand staircase made from recycled timber and flings us into the breathtaking foyer. Where the juxtaposition of warm woodcraft and the stripped-back esthetic of the exposed concrete capture implicitly the visitor's imagination. The walk through this art-land continues into the ground floor bar and lounge where the perforated concrete ceiling and the brass lighting solutions ensure a light play that illuminates the colorful elements and the gorgeous pale wood floors.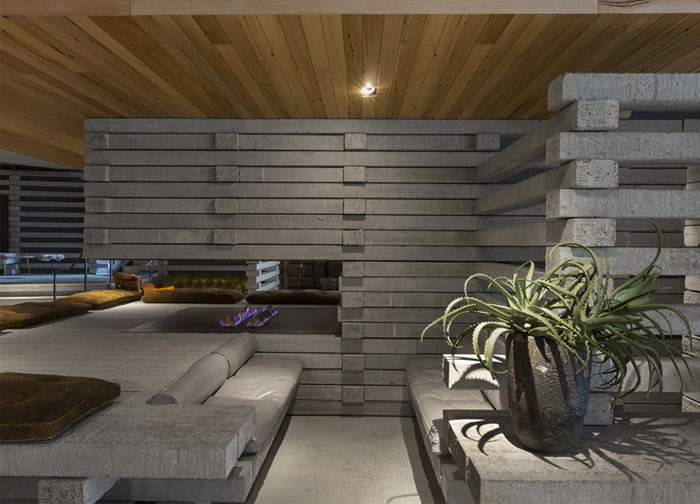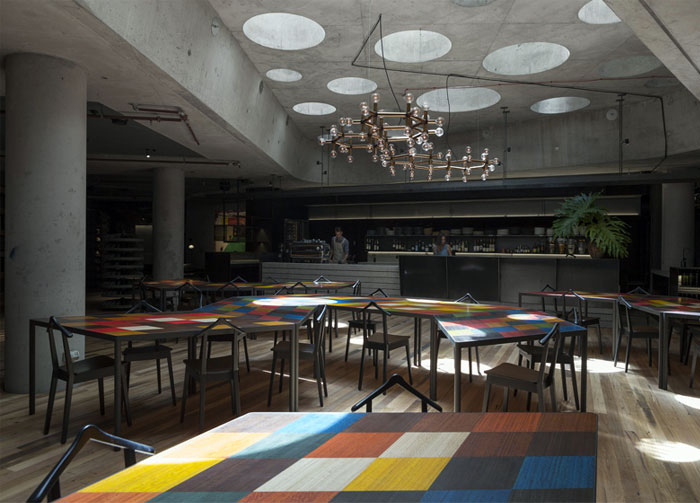 And not to miss, this is a hotel with a library! The warm and cozy decor is revived by some colorful contemporary furnishing and custom made lamps. The concrete and recycled timber use continues into the privet lounges and rooms but here it's straitened by some very interesting material experiments – clay and natural fiber wallpaper adorn the walls, colorful furry rugs correspond nicely with the contemporary and challenging furniture, vintage leather couches and collector's art objects stand out vividly on the background of polished concrete and shiny metal details. The base of the color palette is various shades of gray that accentuates wonderfully the richness of art objects, paintings of local and international artists, the custom made lamps and even the colorful rugs thrown casually on the oak beds. On and all, each room and premise of this hotel may be observed as an aggregate of interesting and precious art objects and materials or as piece of design art itself.