The owners have commissioned Aamer Architects to design and create three extraordinary houses situated in exotic Singapore: one for the owner's and one for each of their two sons.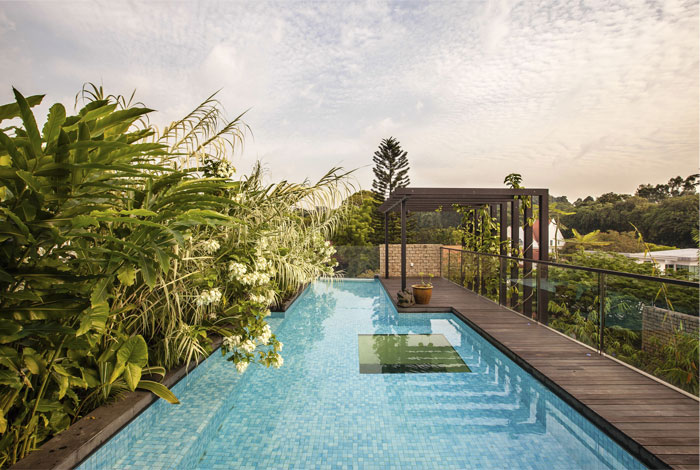 The third green villa is the newest. The two previous houses received the prestige Singapore Institute of Architects' Design Award in 2004. We may say that we expect similar achievements for this one too.
The house is design in sync with the other two, but it has its one unique character. It is distinguished by its amazing garden courtyard and koi pond – swimming pool. The materials for the construction and design are of course very natural; timber, granite and marble. Those materials are twined in dense plant life, and that brings the feeling of bright spaces and cozy privacy.
The house is a wonderful example of vertical garden villa, every room every space in it, is dominated and defined by the exotic plant life characteristic of this region. It's amazing the way that even the bathroom opens, fallen through a looking glass like, directly into the lush flora and fauna of the tropics. Vertical timber trellises are introduced at the facade of the house and extend the green touch above the rooftop swimming pool. The pool garden terrace is surrounded once again of luxuriantly growing tropical plants that give the sensation of swimming in a jungle river like … but of course with a great view over the estate and even the interior of the house.
The combination between the rich plant life, elegant modern construct of building, the exposed stone walls, and the tasteful furnishing, brings this house to attention as one of true value and art.