A Kitchen countertop island sure is modern, comfortable and multifunctional but is your kitchen ready for it? The first and most important question you have to ask yourself when considering kitchen countertop renovation is –do I have enough space and how should I arranged it? If you have more compact kitchen and tight quarters do not despair there are other options- a moveable island that rolls out of the way of foot-traffic and slides in place for entertaining -for example or built in small portable pies so that it can be moved when not needed. In any case, the countertop island is not only great working and storage space but also very pleasant gathering area in your kitchen. So if you are fixed on having it, here are some tips that will help you create and equip your island. Scale, function and style are the three columns that will hold you project together – consider them carefully.
Proper scale, space and measurements
The number you should keep in mind is 42 inches -that is the minimum amount of space you must have between the unit and any surrounding objects. Here is the place to consider what your countertop island will be used for – will it be a space for preparing meals, or for casual dining. You, of course, can combine both; the design could include a 36-inch-high work countertop for food preparation and a 42-inch-high bar for the meals. And also you can have multiple islands and each can be devoted to a different set of activities.
For casual seating at your island, you may want bar stools or pub-style seating that will fit your kitchen island design. Measure carefully the height of the island top by considering the distance from the floor to the underside of the surface – that will help you to ensure that there is enough room for proper leg movement before determining the style of the seating that will work best for you.
You will also need to consider how many seats you can fit at your dining space because it is important to leave enough room between seats so people can eat comfortably -without rubbing elbows, – if possible.
And at last, one important note when discussing size – no island countertop should be more than four feet wide so that you can, without stretching, reach the middle of it.
Thinking about function
At this stage, you should decide what your island countertop will be mainly used for –is it dining and a breakfast bar the main purpose of it or food prep will be everyday activity. If the first- stools and cantilevered countertop are basic. If you want to combine both functions deciding the shape of the island can be helpful. Think about it- will it be traditional rectangular island style, or a T or L-shaped island that will help you to create a multi-purpose area. For example, T-shaped islands can be useful for prepping food at one end while seating guests and family at the other.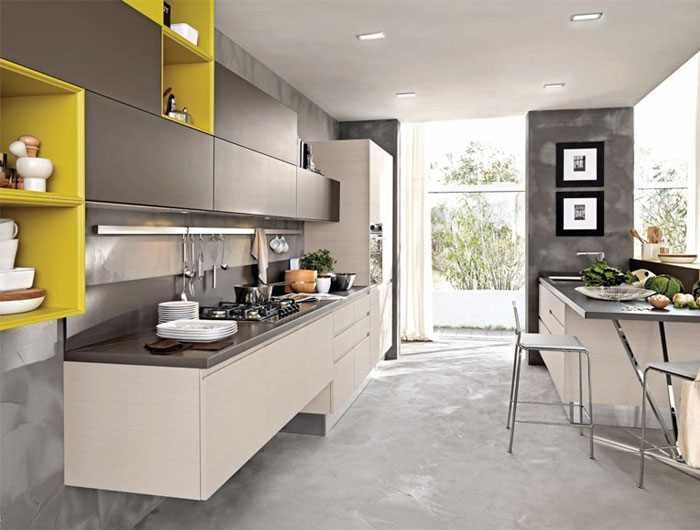 While thinking of food preparation, you must consider some main appliances. For example, will you need an extra sink and if so, make sure that is at least nine inches deep to prevent splashing. The versatile nature of the unit allows you to introduce a cooktop with vent hood overhead or flexible butcher block if needed.
Also, one often overlooked detail is whether or not you would like to have accessible outlets on your island – it is essential if you are using the space for food prep – blenders, mixers, etcetera devices will be grateful if you think about that matter in advance.
One of the greatest functional benefits of the island unit is that it will greatly expand your kitchen storage space. The kitchen island being a piece of furniture itself can include a wide range of cabinet, drawers, shelves and attachments. You can introduce wine chillers and warming drawers, end shelves or a separated shelving unit, generally there are no borders to your imagination when it comes to increase the efficiency of the island. Have creative fun!
And the best expression of your creativity will be the last step of the project -setting the style of your kitchen island.
Follow you style sense.
Before diving into the smallest details of your kitchen interior design such as decorative knobs, knife block, color choices, you must consider first the space arrangement and the territorial role of the island. The island unit can be used to divide the kitchen and living areas in an open-plan house or in cases to delineate the working from dining zone. It may combine bar chair area with classical dining chair set or even- if space permit- accordingly upholstered sofas. Keep in mind that the kitchen island furniture and style should enhance the room's esthetic and style as well as the style of any other room it opens up to.
Essential for the final outlook of the space is also the material for the surface of the island countertop. It may vary from a classical, rustic, wooden style to ultra-modern stainless steel appearance. When choosing the design and material for the countertop you should keep in mind some particularities of the different surfaces. The marble is always gorgeous but can be easily stained. If intensive cooking and chopping is planned- reconsider wood- it can be easily harmed. Solid material that can withstand any cooking activity is granite –it's dark with specific appearance but always can be balanced with appropriate design solutions. Stainless steel and aluminum are always apt choice for contemporary kitchen islands designs.