A breathtaking panoramic villa in Phuket is the new statement in home design. The amazing southwest view from the brand new sleek white villa offers a gaze at the Andaman Sea, Phuket Bay, Koh Rang Yai and Koh Maprao. Even the most pretentious client will be left speechless by this unique ocean panorama.
Selected for the design of the villa is Hong Kong's KplusK Associates. In their work functionality and tropical design go together with modernity in the architecture and interior resulting in this state of the art living space. The always inspiring bond between context and architecture is achieved by the cool contemporary design solutions. Untouched surroundings, exotic outdoor living spaces and the building itself mix up naturally thanks to the minimalist design and the large use of glass – the floor-to-ceiling bay windows, glass walls and sliding doors.
The cosiness and luxury of the living and dining areas can please even the most demanding guest. Huge glass doors offer a view over the bay and access to the 55m2 infinity pool, the expansive al fresco dining area and the 1,519m2 garden. Besides it's restful and exclusive private location, this design villa offers 930m2 of constructed space, four ensuite bedrooms with stunning sea view and a fifth bedroom with a paradise garden view.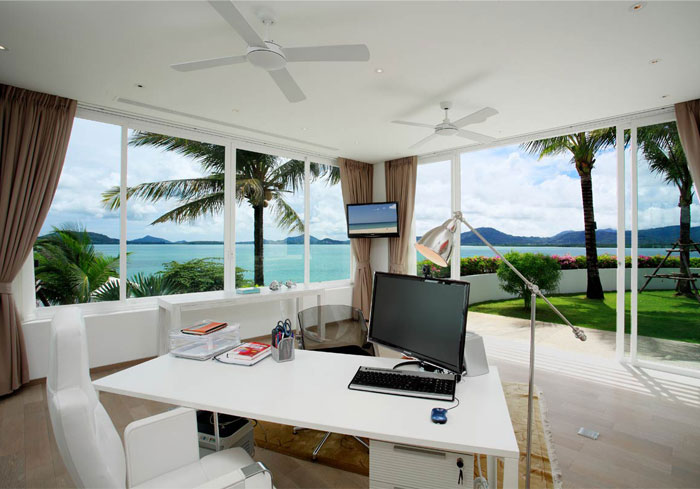 Exclusiveness. Selected artworks from Thailand, the Philippines, Bali and Java. Designer furnishings with pearl inlays, special custom carpets from Nepal. Fully equipped gym, office with panoramic view over the sea, high-tech home cinema, crystal white marble floors, white oak bedrooms in a natural surrounding and minimalist design make this villa a celebration of the art of modern living. The most expensive equipment goes hand in hand with this living space – alarms and security cameras, fully automated remote controlled blinds, state-of-the-art equipment in the cinema room, indoor and outdoor Sonos music system.
Located half an hour from the airport and the city, as well as about 20 minutes from a major shopping mall and close to beaches, marinas and golf courses, this villa is an architectural mixture between space and style, design and nature and belongs to the finest properties in Phuket.